The First Line of Defence
---
A campaign to spread awareness about Covid-19.
---
APRIL 2020
BENGLAURU, INDIA
---
Campaign Design ///
Print Design ///
Illustration ///
Art Direction ///
---
Commercial Project
---
Be a hero

This propaganda series focuses on glorifying all of us as a community to tackle Covid-19. In these times it is outrageously necessary to be aware of our responsibilities towards being an active citizen and a fellow supporter. The posters are an adaptation of the Korean propaganda from the 60s.
This artwork is an effort to showcase and spread the beauty of solidarity. The movement glorifies the act of being a hero by just being lazy and staying indoors, and honouring our brave alliance of doctors all around the world. Together we make the FIRST LINE OF DEFENCE. And we will win this. #Beatcovid19
Be a slacker

This artwork is a propaganda for being a slacker. Even though it seems misleading, these times require us all to stay indoors, even when it means sticking to our screens. The iPad in the artwork contains applications which are used by most Indian citizens living in urban areas to carry out their daily chores amidst the lockdown. The apps spell "S T A Y I N D O O R S". This is our time to do something by not doing anything. Together we all are THE FIRST LINE OF DEFENCE.
Keep distance

This artwork promotes the practice of social distancing. In India, social distancing as a concept has struggled through different stages for citizens to believe it for being the only method to stop the spread of Covid-19. Everyone has understood the meaning of the phrase, "So close, yet so far". We must use all our resources and technology to stay connected, even if it requires us to be physically apart. We may sacrifice our presence of being with our loved ones, but we all do it together. And that makes us the FIRST LINE OF DEFENCE.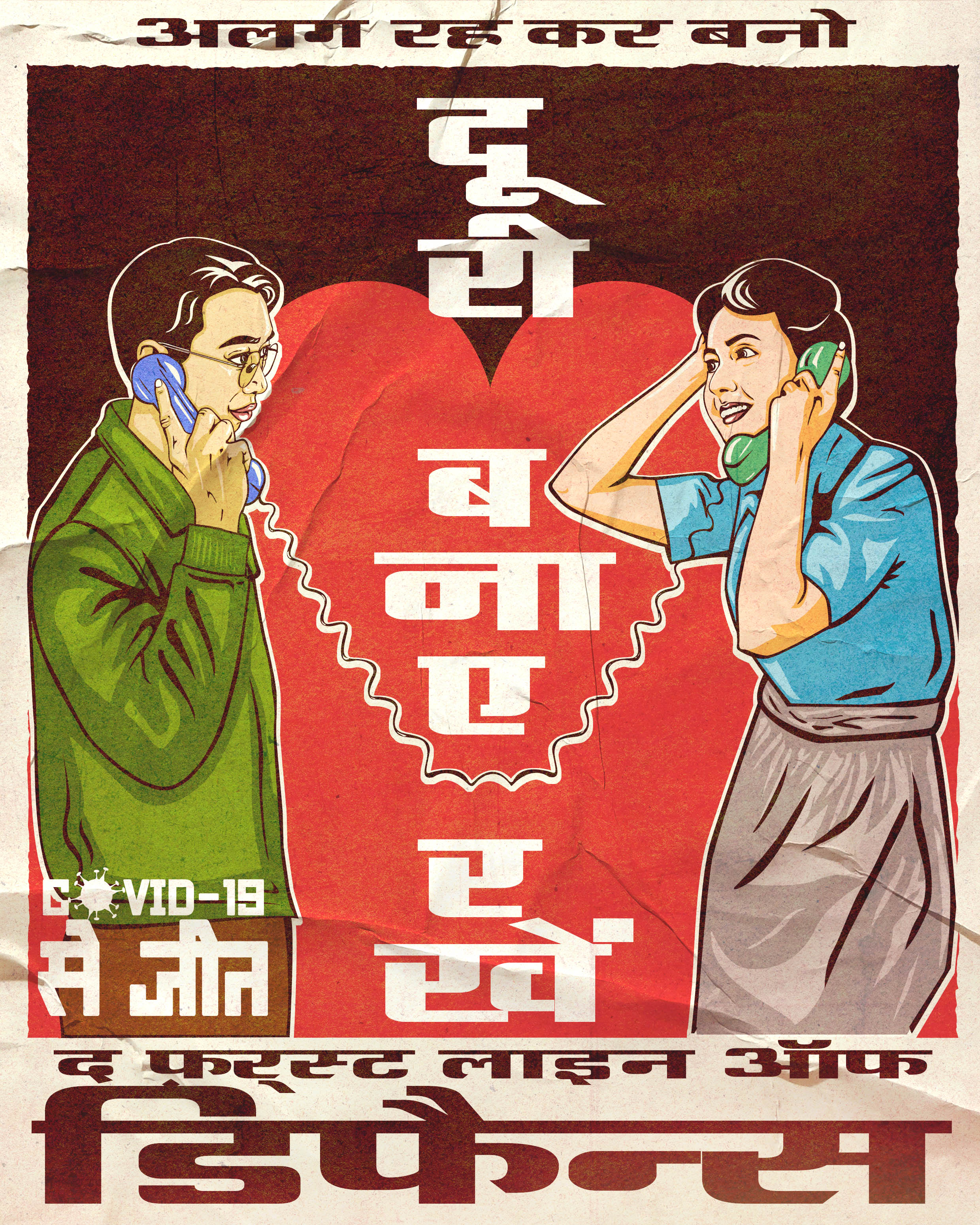 Support the Essentials

The outbreak is itself a state of war. Our army is our only hope, we being a part of it. The essential workers are commendable in working through and through, amidst these hard times, putting their lives on the line for our society to survive. This artwork is a homage to each and every "soldier" out there who is serving the nation and the world by being a responsible and dutiful hero. They are our backbone and we shall support them in any way we can. They all are in fact, our FIRST LINE OF DEFENCE.